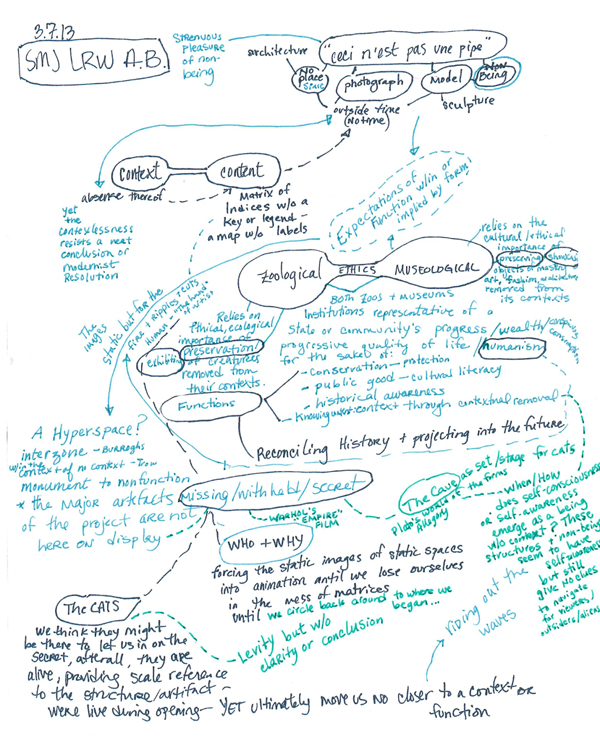 Please join us for these rousing public events offered in conjunction with Anthony Baab's A Strenuous Nonbeing! All events will be free, open to the public and held on site at Grand Arts.
From The Concrete Into The Liminal: A Free Tour of Anthony Baab's Exhibition led by Timothy Speed Levitch
Saturday, March 23rd 3-4 PM @ Grand Arts
This event is free and open to the public, but space is limited. Please email gallery@grandarts.com to reserve a space.
This will be a one hour tour split into two acts – Act One takes us outside, into the concrete world of Grand Arts' parking lot and the sidewalk out front. Here, we will have an opportunity to hang out and empathize with some of the "real" objects that dwell in this very transparent world. Then, Act Two takes us back inside Grand Arts, where we'll enter the liminal world of Anthony Baab's exhibit and do a compare/contrast between the lives of the "real" objects dwelling outside of Grand Arts and the lives of the unfeasible objects of Baab's world that are currently dwelling inside Grand Arts.
Timothy "Speed" Levitch, a native of Kansas City and New York City, is an iconoclastic philosopher, tour guide and writer. Currently, Speed is the host of Richard Linklater's Hulu documentary series "Up to Speed" and renowned as the cult star of Bennet Miller's 1998 documentary The Cruise. Levitch is a true lover of the city, history and theater.

One Person's Temple is Another Cat's Sandbox

Saturday, March 30th 3 – 4 PM @ Grand Arts
This event is free and open to the public
In Anthony Baab's A Strenuous Nonbeing, one of his mysterious architectures is haunted by a coterie of feline presences. What business do these cats have there? Are they guides? Captives? Squatters? All of these? Perhaps the cats serve as ciphers, illuminating more about about "us" than they reveal about "themselves."
Grand Arts emissaries Seth Johnson and Lacey Wozny will use Baab's work as a starting point to link seemingly disparate themes and existential queries arising from the above concerns. Topics will include: cat furniture as high modernism; Lonesome George and the ethical presumptions of zoos; how a polar bear family and a flock of sea gulls colonized a model Soviet outpost; cultural literacy through great misunderstandings, and more….