Lori Waxman, the 60/wrd/min art critic:
The selection process for the 60/wrd/min art critic performance is first come, first served. This egalitarian approach is necessary for writer, critic, and performer Lori Waxman, because in her performance it is the artist who chooses to be reviewed by her. As a performer, Waxman addresses whoever comes in the door for a review and must contend with whatever they bring. She is very aware that the participating artists are not only seeking critique, they are making themselves additionally vulnerable by having the review take place in a gallery that is open to the public. As a public project, Waxman's 60/wrd/min art critic performance offers an important service in communities that are often bypassed by mainstream arts publications.
In order to review the works, Waxman asks that artists haul their art to the gallery so that during the process the works are on display. Also on display are the hot-off-the-press reviews, which the receptionist mounts to the gallery wall and are published later in a local paper and online on the project website http://60wrdmin.org/home.html, http://www.charlottestreet.org/page/2/. With every move of the cursor broadcasted live, the 60/wrd/min performance action serves as the present, in-the-moment exchange between artist and art critic. Waxman admits that her reviews tend toward the positive because she herself is on a bit of a learning curve. She must have a very strong conviction to write a critical review: " If you say something negative, you better mean it." For example, an artist may come in with work for which she has no context and no opinion about their prior works – perhaps not even the language needed to address it. The artist is not invited to explain his/her work, though, and so the critic is on her own. Everyone is on display in this performance, and according to Waxman, "everyone's uncomfortable–except maybe the receptionist."
Waxman however, is a savvy critic and a quick study, in spite of the built-in handicaps in her performance. Calder Kamin, local ceramic artist and gallery manager was eager to respond to our inquiry into participants' thoughts after the performance. Kamin writes, "Lori's review has left a wonderful impression on me. I make cut-up puppy parts and I felt like someone finally got it … I have had a lot of experience with the criticism of my work, but I have never had something written or so completely unbiased."
We asked Lori about her own experience with criticism of her 60/wrd/min project and she said the attention she receives, like her interviews with NPR's Studio 360 http://www.studio360.org/episodes/2009/05/15 come mostly in the form of interested discussion rather than critical review. Waxman did get one review by a theater critic from a paper in Knoxville, Tennessee, who told her later that he couldn't imagine how uncomfortable it must be to write with the contents of her desktop on display via flat screen monitor in the gallery waiting room. Imagine the anxiety imposed by the blinking cursor, flashing between the waiting room audience, which may or may not include the artist being reviewed, and Waxman at her desk with laptop, timer and service bell. Participants and members of the public alike can watch Waxman delete a word, look up a reference or correct a spelling mistake. The pressure for Waxman of having her writing process on display reverses the roles for any artist who's ever invited the public, or a critic, to an open studio event. Typically, the artist is always the one on display, while the traditional role of the critic is to waltz in and judge what they see.
The Kansas City art community often longs for more critical discussion, and judging by the crowded review schedule for Waxman's performances at the Charlotte Street Foundation's UCP Project Space, artists in this area welcome the attention and respect that visiting critics and writers bring to the community. Kansas City-based artist David Ford, no stranger to both local and national reviews, sees Waxman's performance as a work of art. Ford writes of his review experience, "No I will not use it in my bibliography as it was [part of] a performance by art critic Lori Waxman." 60/wrd/min participant and Kansas City-based artist Teri Frame writes, "Hard-working and insightful writers of critical discourse need to be supported just as much as artists need to be." We couldn't agree more.
Grand Arts would like to thank Lori Waxman, Urban Culture Project and the following participants for their interviews for this post: Calder Kamin, David Ford, and Teri Frame.
Post by: SF and LW

Calder Kamin, Puppies Tummies, 2010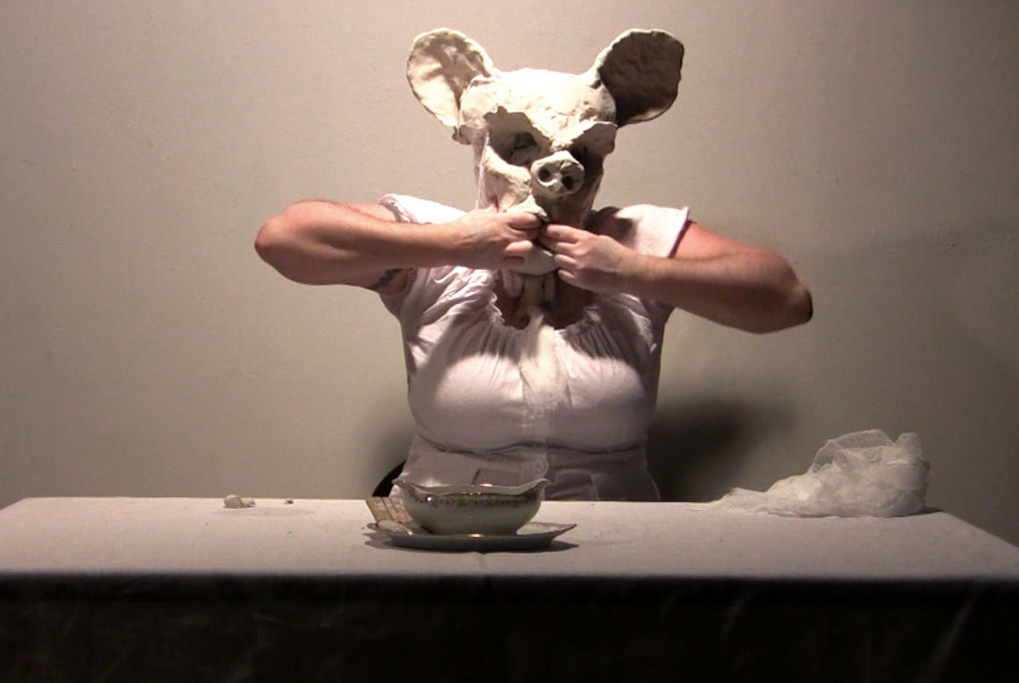 Teri Frame, Chimera, 2009